It was a very busy day for Canonical releases. Juju core 1.11.3(devel) was released which brought with it a number of bug fixes along with the long awaited Local Provider support. The stunning, cutting edge, crowd funded Ubuntu Edge Ubuntu smartphone campaign was released and, at the time of this writing is sitting at $2.4Million of it's record setting $32Million goal after less than 24 hours.
Most exciting to me however is release of the Juju GUI v0.8 and the new jujucharms.com. v0.8 has a large number of bug fixes to intagrate properly with the new jujucharms.com but most importantly enhances the new Juju Deployer format.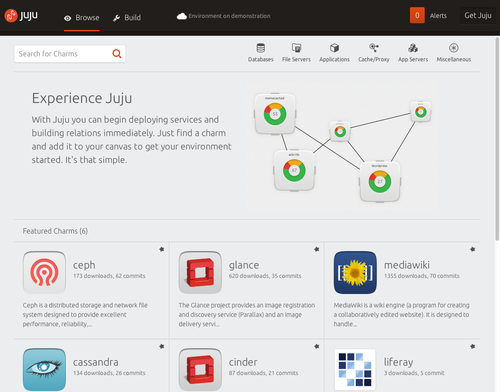 Visiting jujucharms.com now drops you right into the Juju GUI with the charm browser open allowing you to explore and discover new charms as well as deploy them into a mock Juju environment. This allows you to build your entire environment and then export it into the new Juju Deployer format for easy import into your own local environment!
We don't plan to slow down now, there are a number of great improvements coming down the pipeline very soon. If you have been following our development trunk I would like to let you know that the uistage link will be being retired in favour of http://comingsoon.jujucharms.com/ which will, just like with uistage, host our dev trunk, updated throughout the day as new code makes it in.
It's a great time to be involved with open source! Let me know what you think of all of the great things coming out of Canonical. Comment below or mention me on twitter @fromanegg, Thanks for reading!.